Automation at Scale
To protect against jobs being eliminated due to automation, it is important to recognize which characteristics are most likely to be associated with a given job being automated — perception and manipulation, creative intelligence, and social intelligence are the three bottlenecks to automation.
Cities and regions that have invested in skilled industries remain relatively safe from automation and technological dynamism will remain the best way to maximize employment and to benefit positively from new technologies.
Education is also a very important tool that policymakers will need to leverage in preparation for the effects of accelerated technological change.
Public Predictions for the Future of Workforce Automation
A majority of Americans predict that within 50 years, robots and computers will do much of the work currently done by humans – but few workers expect their own jobs or professions to experience substantial impacts.
Robotic Process Automation (RPA) - The Operating System for the Digital Enterprise
On the labor market are entering Generation Z and Alpha, both of which haven't experienced a life before internet so being able to attract, keep and engage them will require a total different strategy compared to Millennials.
Not implementing RPA will mean being left behind by those who do. Benefits are seen are immediately – within 3 to 5 weeks – which likely means Robotic Process Automation will become the new norm all will wonder how was even possible the work without it.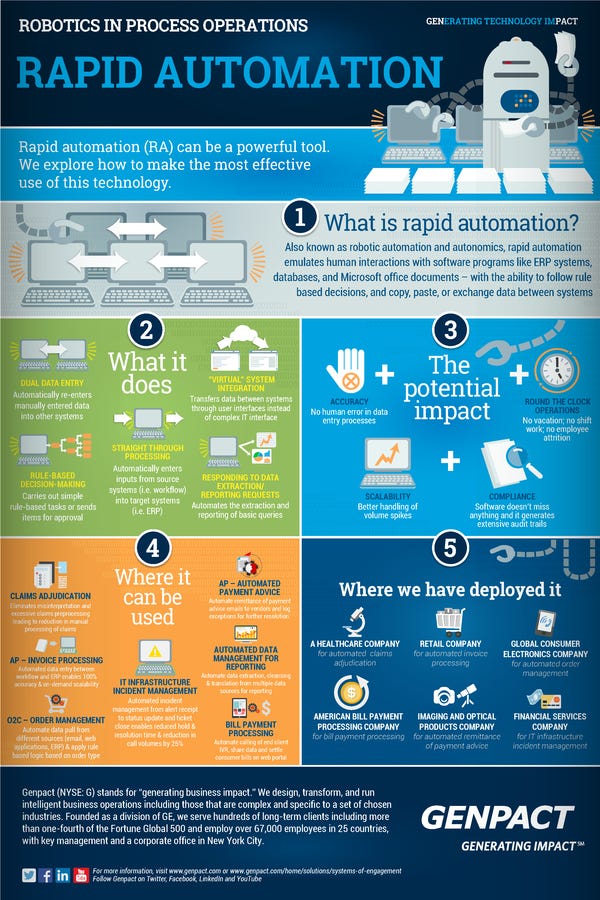 Robotics in Process Operations | Genpact
How can RPA and other Digital Labor Help Financial Institutions
Digital labor is evolving quickly. It can be applied to a wide range of tasks, with less effort to program than ever. We've moved far beyond using macros on a spreadsheet. This frees up staff to do much higher value work.
It's clear financial institutions can get a lot out of RPA and IPA as they look to evolve their operating models. We should see a quick shift from education toward implementation as the investment cases become clear.
What is the 4th Industrial Revolution?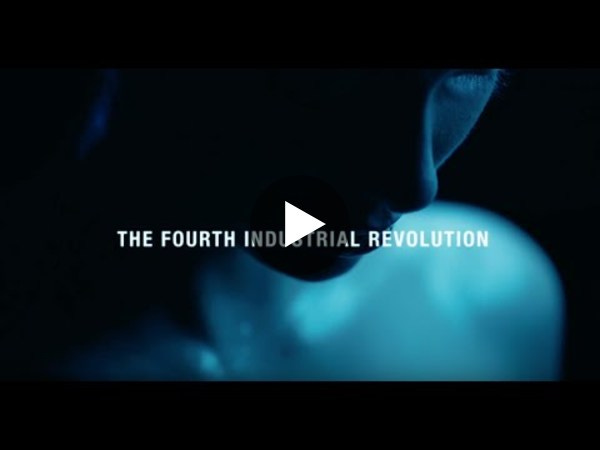 The Fourth Industrial Revolution | World Economic Forum
Robotic Process Automation in Finance
A successful RPA implementation is firstly grounded in a strong business case for change. The business case should clearly state the objectives and expectations of the RPA project, and include both the qualitative and quantitative benefits that are aligned with overall business and management strategy.
RPA Tools Thursday Nuzzel
Automation and Jobs: When Technology Boosts Employment
There is widespread concern today that many jobs will be lost to new computer technologies, as more human tasks can be performed by machines. A host of recent papers estimate that these technologies put anywhere from 9% of jobs to 47% at risk of…
You Will Find These Interesting...
Market Research: The Future of Jobs | Industry 4.0 & How to Leverage RPA
The impact of Robotic Process Automation on a company's operations and competitive positioning is significant on a number of fronts: economic value, workforce advantages, quality and control improvements, and flexible execution.
What does RPA have in common with Coffee?
RPA Tools and Coffee have more in common than you can imagine! You would be surprised…
Top 10 Daily Innovation Articles From RPA Tools
Shaping the Future of Technology Governance: Artificial Intelligence and Robotic Process Automation. Brought to you by Refind.
Become a member for $10 per month
Don't miss out on the other issues by RPA Tools
By RPA Tools
RPA Tools is a network of industry leaders, RPA developers and enthusiasts dedicated to providing unparalleled peer insight and expertise on automation, efficiency and culture. Our readers are up-to-date on top intelligent automation news and trends.
You can manage your subscription here
If you were forwarded this newsletter and you like it, you can subscribe here.
Powered by Revue
United States